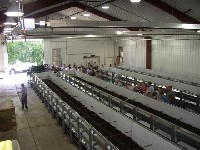 Worm composting beds
Granville Township in Mifflin County may only serve 5,000 people and local businesses, but it's the first wastewater system in the United States to use vermiculture – worms – to turn its Exceptional Quality biosolids into a compost product it can sell.
"In 2000 we received a letter from the Mifflin County Solid Waste Authority saying they were going to close their landfill," said Larry Craig, Sewer and Water Manager for Granville Township. "We looked at lots of options for handling our biosolids, but every one we looked at had high energy costs or odor problems."
Then two things happened.
"I read an article in Biocycle Magazine about vermicomposting and a friend of mine came back from a conference in Texas where she heard about an Australian company that had a process for using vermiculture to compost biosolids," said Craig. "We immediately contacted the company and looked into it."
Granville Township worked with Vermitech, the Australian company, and the Department of Environmental Protection to first do a pilot composting project to make sure the process worked with its biosolids. The project also allowed DEP to preview the composting process.
"Vermitech already had a similar operation up and running in Australian that was operating since 1997 processing about 200 tons of biosolids a week," said Craig. "So we knew they had a track record."
Craig also began to educate local officials and residents about vermiculture.
"I went out to schools, Rotary and Kiwanis Clubs, Garden Clubs, to anyone who would listen about the process," said Craig. "The schools were especially important because we thought working with children in grades 7 to 12 would help get information home to their parents."
Thanks to a $680,000 loan provided by the Pennsylvania Infrastructure Investment Authority and a $478,000 grant from DEP's Growing Greener Program, Granville was able to construct the full size biosolids vermicomposting facility.
Granville Township's two wastewater treatment plants produce about 70 dry tons of biosolids a year from its residential and industrial customers. Biosolids from the facility already met the stringent metals criteria to be Exceptional Quality, but they had to assure the new process met the pathogen destruction requirements as well.
The shakedown phase of the new vermicomposting facility began in June of 2004 with the installation of four composting beds putting about 2,000 pounds of worms per bed. The beds are four feet deep and 100 feet long.
The beds were filled with 12-14 wet tons of biosolids and run through the process feeding new material on top and taking finished product from the bottom of the beds. The worms primarily live in the top one foot of the bed.
The Township tested the finished product over the last year and found that it met each of the Exceptional Quality criteria and DEP approved the facility and the compost for distribution.
"We just sold the first 16 tons of product to several customers-- a golf course, vineyard, a sod company and a tree farmer as a soil amendment," said Craig. "We also plan to make it available to the public in 50 pound bags."
"It works, ask my wife," explained Craig. "She used the compost on her rose bushes and had the nicest, biggest roses she's ever seen."
As a soil amendment, there are no formal restrictions on its use, however, the Township does not recommend using it in gardens for root crops yet until they have more of a track record of testing the compost.
The numbers tell part of the story of why this approach is attractive.
The Township hopes to produce about 150 tons of product a year and generate $20-25,000 from selling the compost to offset the debt service for the loan and operating costs.
"We were paying $75-80 a ton to dispose of our biosolids at the landfill—about $30,000 a year," said Craig. "With the income we hope to realize, the costs we're avoiding by not landfilling the biosolids and the lower operating costs, we're actually paying a little less to vermicompost our biosolids."
"But the real benefits to this option are that it's natural and no chemicals or mechanical equipment are used in processing," said Craig. "We're not taking away from the environment, we're actually putting something valuable back."
For more information, contact Larry Craig, Sewer and Water Manager for Granville Township, by email to lcraig@granville-twp.org or call 717-242-1838.
Attachment: Granville Township Vermicomposting Facility Photos - PDF