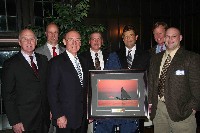 Agriculture Secretary Dennis Woff, Sen. Brubaker, former Sen. Wenger, Sen. Waugh, Rep. Stern, Wil Baker and Matt Ehrhart of CBF
The Chesapeake Bay Foundation this week presented former Sen. Noah Wenger with a Lifetime Achievement Award to honor his conservation achievements. The award was presented at a reception attended by elected representatives, government officials, farmers, and business and environmental leaders at the Harrisburg Civic Club.
"Sen. Wenger's commitment to the environment, conservation, and the health of family farms has left a lasting legacy in Pennsylvania," said Chesapeake Bay Foundation President William C. Baker. "He has long understood that the health of our agricultural economy is crucial to the water quality in our rivers and streams, and has acted to ensure the health of both."
After 30 years of service, Sen. Wenger retired this past December, leaving behind him a long list of accomplishments. Among them, Wenger is credited with spearheading the state's farmland preservation program, which was launched in 1989. Pennsylvania now leads the country in the total number of acres permanently protected, and last month achieved the significant milestone of 3,000 farms preserved.
Sen. Wenger also served as Chairman of the Chesapeake Bay Commission, a tri-state legislative commission dedicated to advising the General Assemblies of Maryland, Virginia, and Pennsylvania on matters of Bay-wide concern.
Sen. Wenger has also worked tirelessly to help farmers get the tools they need to improve stewardship of the land. Last July he introduced the Resource Enhancement and Protection Act (REAP), that if enacted, would reduce pollution in the Chesapeake Bay by 15 million pounds annually.
Rep. Stern (R-Blair) introduced REAP in a companion bill in the House and announced he planned to sponsor the bill again this session. (see separate story)
CBF's PA Executive Director, Matthew Ehrhart, commended Wenger for finding common ground among environmental and agricultural interests. "Working with Democrats and Republicans, farmers, agricultural business leaders, watershed groups and other conservation oriented organizations, we hope to pass REAP, which will improve local water quality and go a long way toward achieving the goals set forth in the Chesapeake 2000 Agreement."
"CBF applauds Sen. Wenger for his efforts and is honored to bestow him with a Lifetime Achievement Award." Ehrhart said. Lifetime Achievement awards are presented by the CBF's Board of Trustees infrequently and only to those most deserving individuals whose long-standing dedication to and achievement in saving the Bay merit special recognition.